Why is truck art popular in India?
Shantanu Suman is a designer based out of North Carolina. He made a rather colorful documentary called Horn Please way back in 2013. This documentary has won worldwide recognition for providing a rare insight into the origins and the evolution of truck art in India and how it influences the lives of the drivers, truck owners and artists.
Another fantastic read on this topic is the book by Dan Ekstein – Horn Please – The Decorated Trucks of India. Dan traveled 10,000 Kilometers in India documenting trucks, drivers and roadside culture of India.
In an interview to CNN, Shantanu Suman and Dan Ekstein list several reasons for the popularity of truck art in India.
1. Feel at home: Truckers in India want to travel in style as they (like all truckers anywhere else) end up spending over 10-months in a year on the road. Since these truckers miss their families and homes, they want to make their truck a sort of a second home. Truck art is one way of making yourself feel at home when you are away from home.
2. Reflection of personality: Truck art reflects the personality of the truck owner or the driver and the more colorful the better! There seems to be an element of competition to outdo one another by jazzing up the truck. Sounds familiar. According to Suman, "They might adorn the cabin with bangles — things that remind them of their wives."
3. Attract business: All the intricate artwork, calligraphy, paintings and ornaments that adorn trucks in India also have a business side to them. Truckers want to attract new customers and one of the ways of doing it is to put in some effort in making their trucks colorful.
4. Keep evil spirits away: Religious artwork and accessories are found in all trucks to ward off evil spirits. Most importantly, it's also a reflection of the dangerous highways and Indian's belief in superstition (much more than common sense!).
5. Reflection of roots: The nature of artwork is also a reflection of the diversity of the country and trucks in different parts of the country carry different styles of art reflecting the lifestyle of their owners.
As the country races to modernize its transport infrastructure, hand painted truck art is slowly going the way of cinema posters as more as the new generation starts relying on printed stickers and the new younger generations of family members seek a better livelihood.
15 Awesome truck art from around India
Here is a showcase of truck art from Meena Kadri, a graphic design artist and teacher from New Zealand. Here are
1. Truck art font: This is one of the coolest water tankers in India! In fact, truck art like these inspired designers to create fonts based on these themes!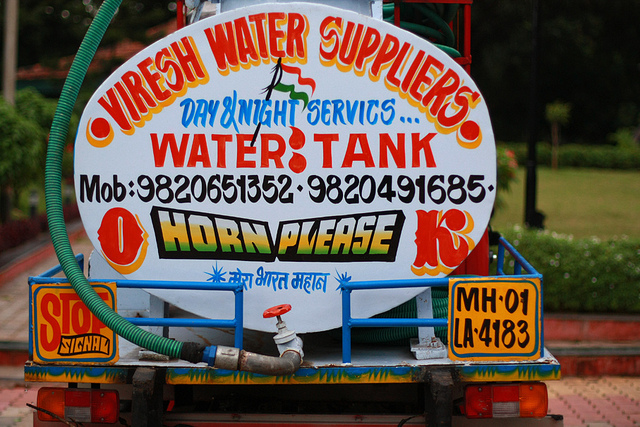 2. Royal mud guards: Check out the stylish mud guards with a couple of elephants ready to roll!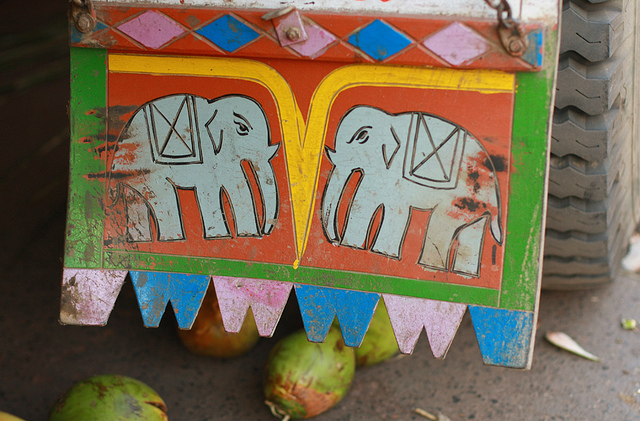 3. TATA: Yes, truck art has space for the manufacturer as well.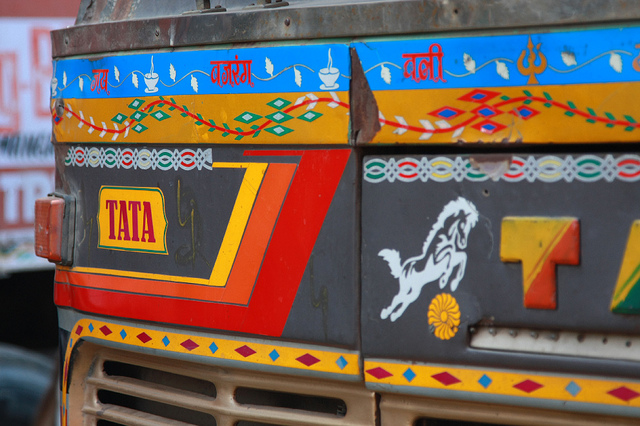 4. Namaste: This truck oozes with the traditional Indian courtesy and hospitality.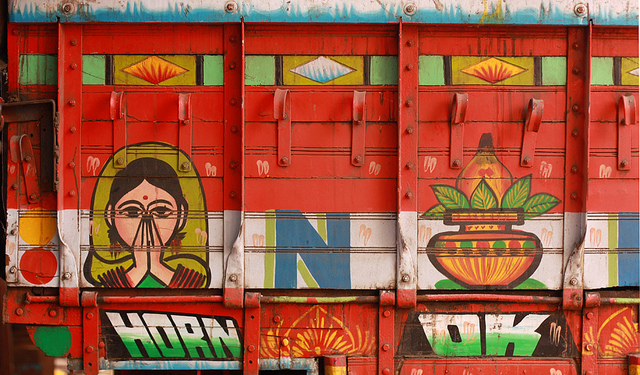 5. Patriotism: Most trucks in India have artwork that promotes the unity of the country as well as religious tolerance.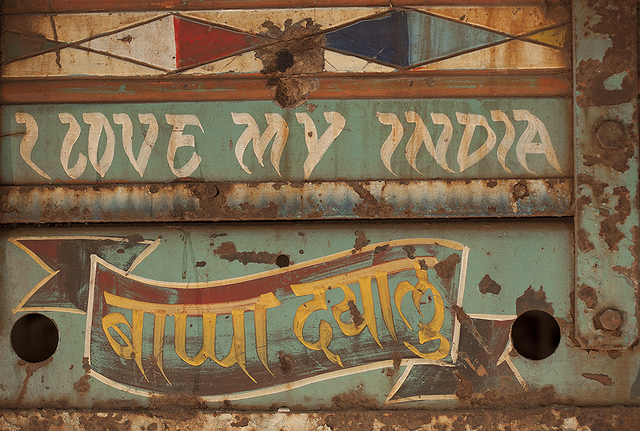 6. Yes, please honk: "Horn Please OK" is a message intended for vehicles following the truck to honk liberally in order to announce their presence.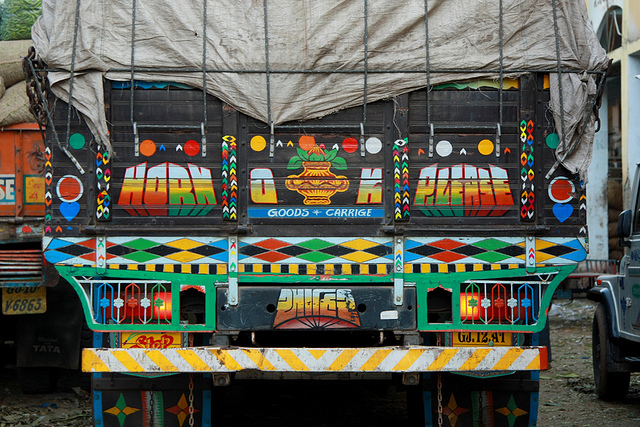 7. More of the same: Yet another "horn please OK" sign. Notice the funky patterns and the lotus.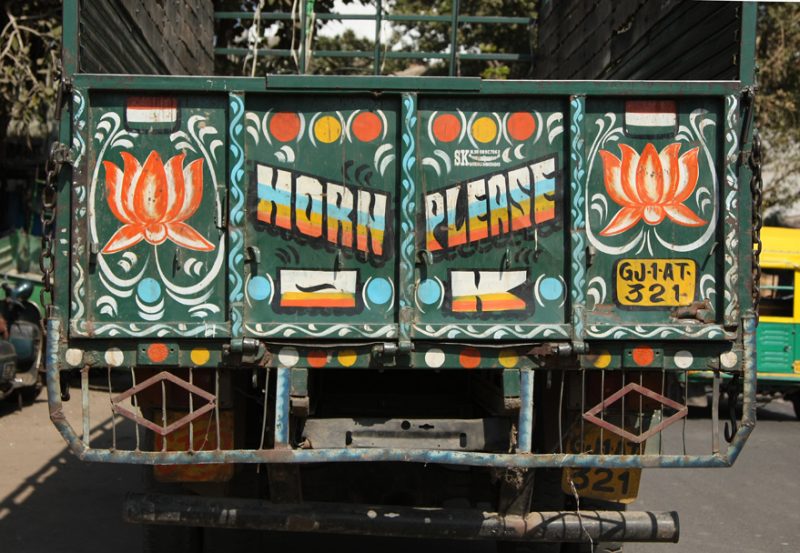 8. Elephants: Elephants are everywhere in India and truck art is no exception.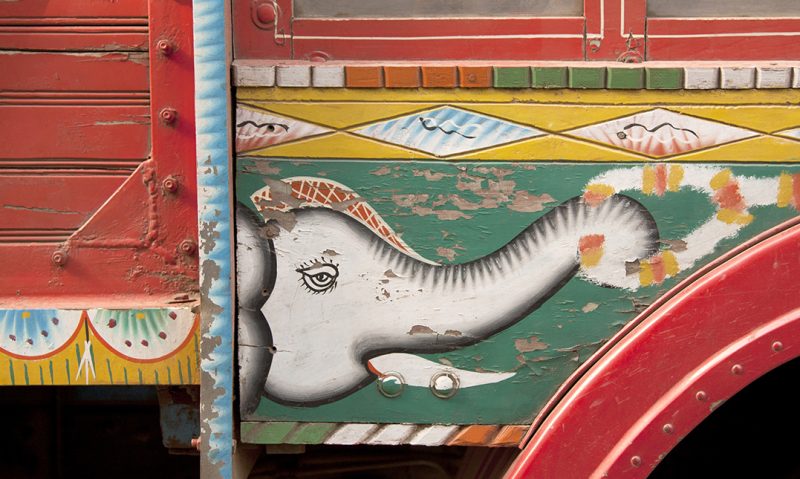 9. Nothing is out of bounds: There is no space left behind when it comes to truck artwork. That includes the diesel tank!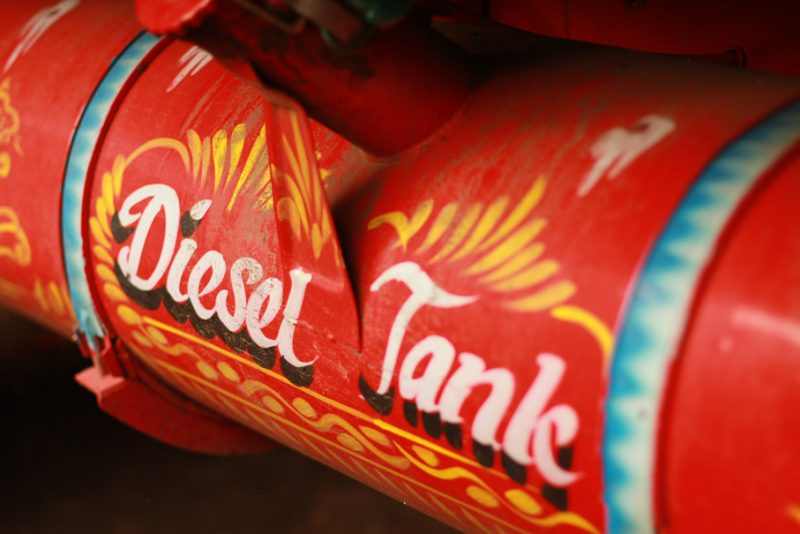 10. It's all in the family: This truck has "Ankita" and "Akshay" on the back. Most probably they are the children of the truck owner.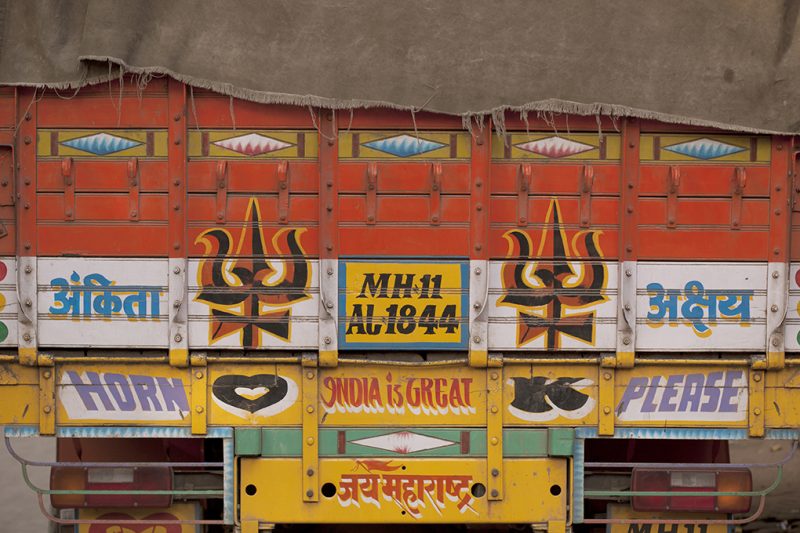 11. Confidence: This trucker thinks that even the cops love his truck art!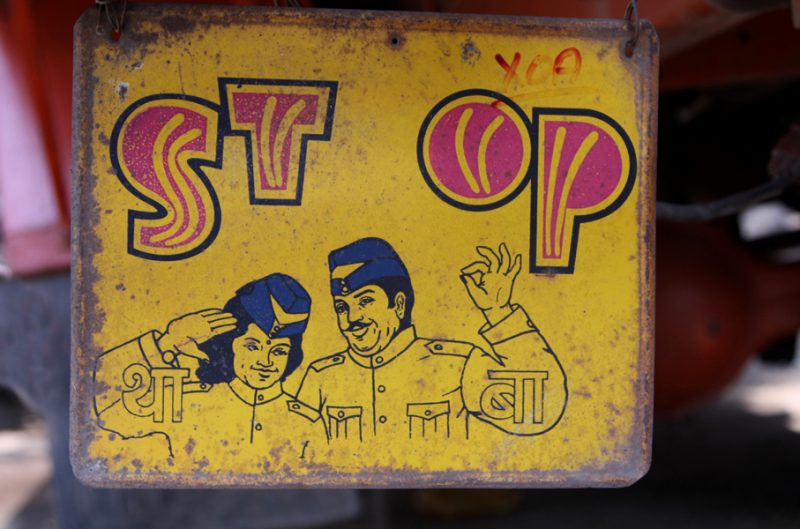 11. Interiors: Truck art is not just for the exteriors. Interiors of these trucks also get the same attention when it comes to artwork.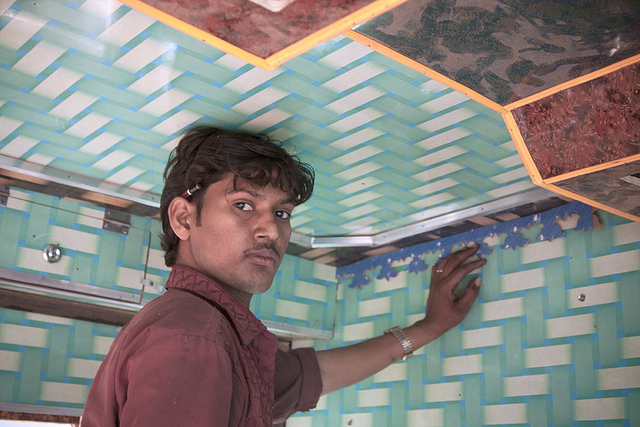 Nita Kulkarni, a freelance writer and journalist has an interesting blog that focuses on everything Indian. Here are images from one of her blog posts.
12. Swastika: The swastika is a holy symbol in the Hindu religion. There is nothing more to it!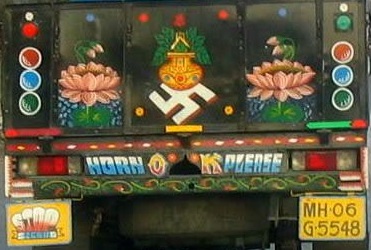 13. The colorful radiator grill: This truck has chosen to depict the Taj Mahal on the radiator grill!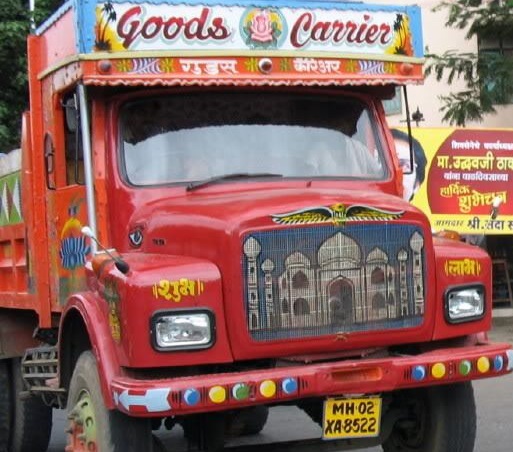 14. Holy cow: Mridula Dwivedi, published this photograph on her blog page. It shows Lord Shiva and the holy cow!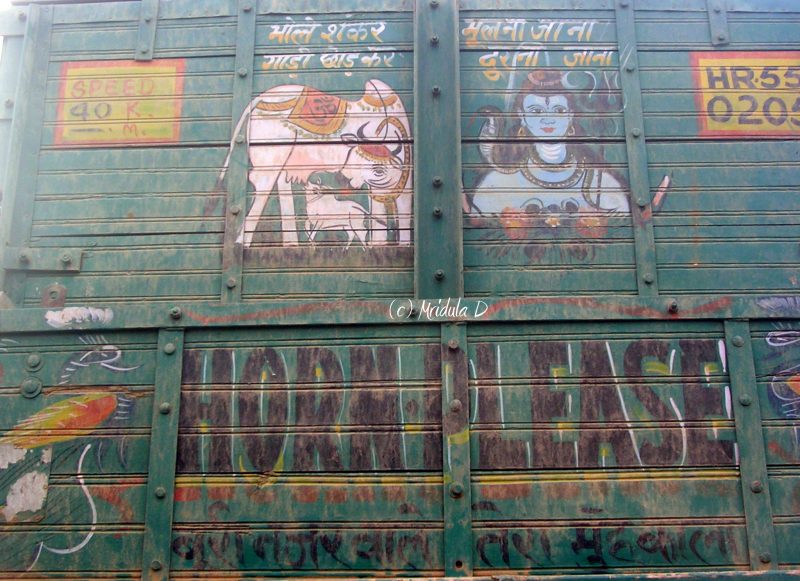 15. Colorful decorations: Pete Blackman from the UK shared this photograph of a truck in Gokarna, Karnataka.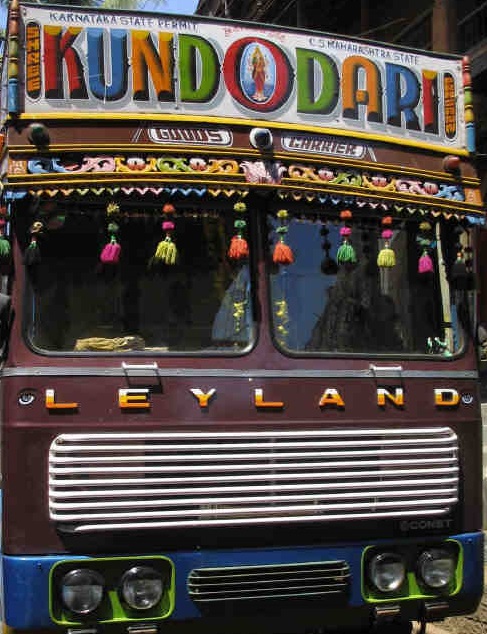 While truck art in India is cool, Pakistan is the granddaddy of truck art. This is one of the few areas where Pakistan beats its larger neighbour hands down!
Get your dose of Indian from these cool blog posts
---
Did you know? Jodi Logik provides an opportunity to showcase your quirky interests. Sign up for FREE!