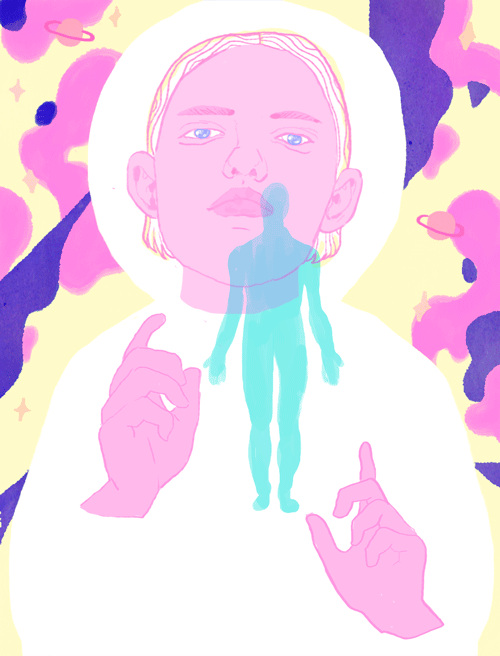 More and more Indians are finding love online
Indians are big believers in finding true love after marriage!
Finding love online is probably that the last thing your parents want you to do. But things have been changing so fast that you will be surprised at the speed with finding love online has taken off in India.
Here are some pointers that tell us why finding love online is a happening trend in India today.
a. The estimated value of the online matrimony market in India by 2017 is projected to be worth $250 Million, according to Associated Chambers of Commerce and Industry in India. Parents are one of the most active and motivated users of matrimony sites!
b. Indians are also finding love online through dating sites. Dating is all set for a boom and the proof of this happening is the mushrooming dating sites and apps that range from matchmaking services to Tinder clones.
c. Let's not forget that social media tools like Twitter, Quora, and Facebook have also helped Indians find love online. However, these connections don't happen deliberately and are no different from you falling in love with a handsome, young man you bumped into at a mall!
d. As Indian families migrate to urban centres, away from their villages and extended families, they find that their social network in the real world has shrunk.
That's not all, Indians have not yet developed the social skills needed to find their soulmate on their own nor is it still acceptable to have casual conversations in public places or meet women in bars!
Dating sites, matrimony sites are capitalising on this opportunity by making the process less intimidating and private to some extent.
Finding love through online matrimony sites
When you reach the "marriageable age", the first thing your parents do is to create a biodata for marriage. They will share this document through traditional snail mail or through email. The idea here is to find people within your parent's social network. Invariably this process is a hit or miss. Most likely, they will enrol in an online matrimony site.
There are plenty of choices available for you when it comes to choosing the right matrimony site. Here are a few simple questions you need to ask yourself to identify the site that best suits your requirements.
Answer the following questions and you will probably have a shortlist of sites that may work for you.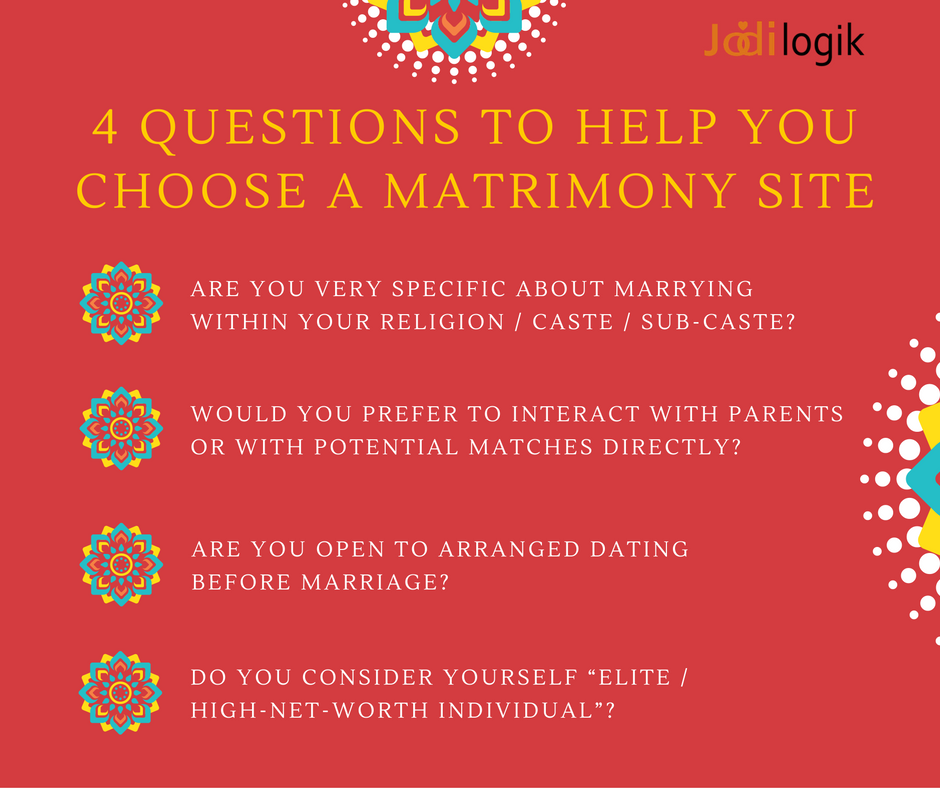 1. Would you prefer to interact with parents or with potential matches directly?
Most popular matrimony sites (Shaadi, Jeevansathi, Bharat Matrimony) have a large number of profiles created by parents. They do have profiles created and managed by prospective matches but you won't find too many of them. If you want to directly interact with potential matches, you should look at the countless other sites that have sprung up in the recent past.
2. Are you very specific about marrying within your religion/caste / sub-caste?
Once again, the big three sites excel in helping you search within your community. You will also find regional/local sites that cater to specific communities (Example: Sai Sankara Matrimony in Chennai caters to the local Brahmin community).
3. Do you consider yourself "elite / high-net-worth individual"?
If you have a high-paying job or running a big business or you come from elite schools, you will find it difficult to meet someone who will meet your "standards" through traditional matrimony sites. You are better off taking the dating route or hire a matchmaker who specialises in providing services to rich / high-flying people.
4. Are you open to arranged dating before marriage?
Matrimony sites may not be the right option for you if you would like to date the person you shortlist before committing to marriage. You may have to look at other matchmaking options. Read on to find out.
---
Here is a list of online matrimony sites in India along with pricing information and customer reviews. Click here to read this in-depth article.
---
Finding love through online matrimony sites starts with finding a compatible person who meets all your basic expectations. You need to then really do that hard work before and after marriage if you have any hopes of converting finding true love.
Here is how online matrimony sites work.
1. Sign up to create your profile free of cost.
2. Complete your profile and upload a photograph.
3. Use the search feature to start searching for matching profiles.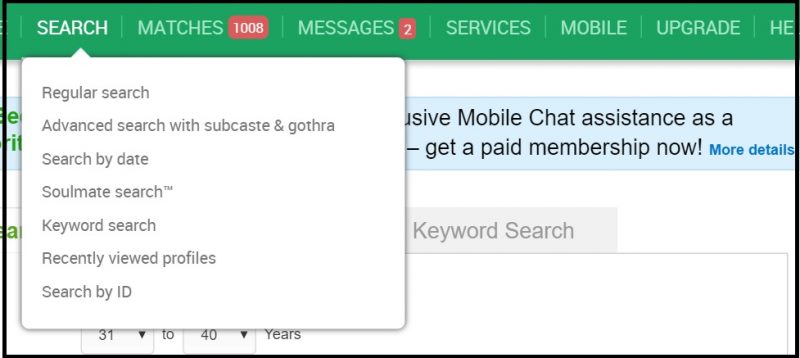 4. Express Interest or send a message.
5. You will also receive notifications when other parents are interested.
6. Remember to also check out self-created profiles. You may be lucky to directly interact with a boy or girl. Don't have your hopes high on this front.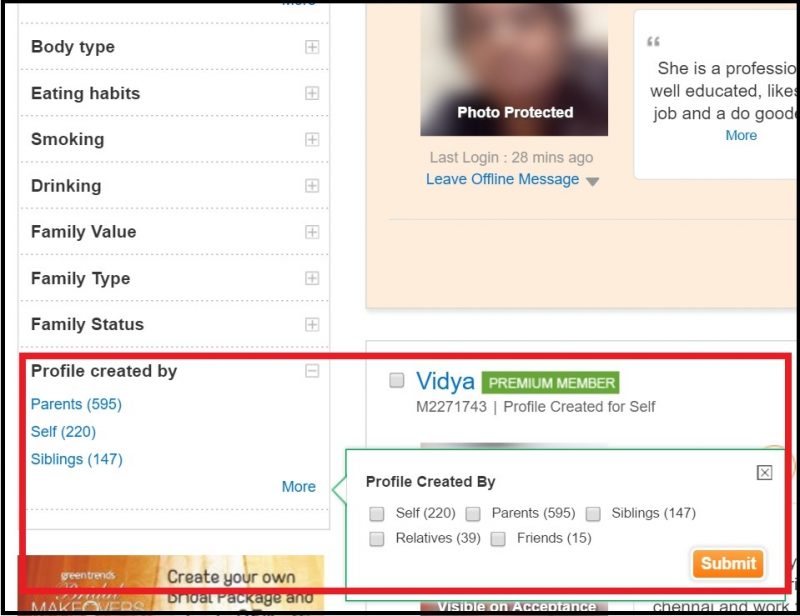 Beware of these matrimony site pitfalls
There are several challenges you will face when you use matrimony sites.
First of all, you will be sold to at every turn to upgrade.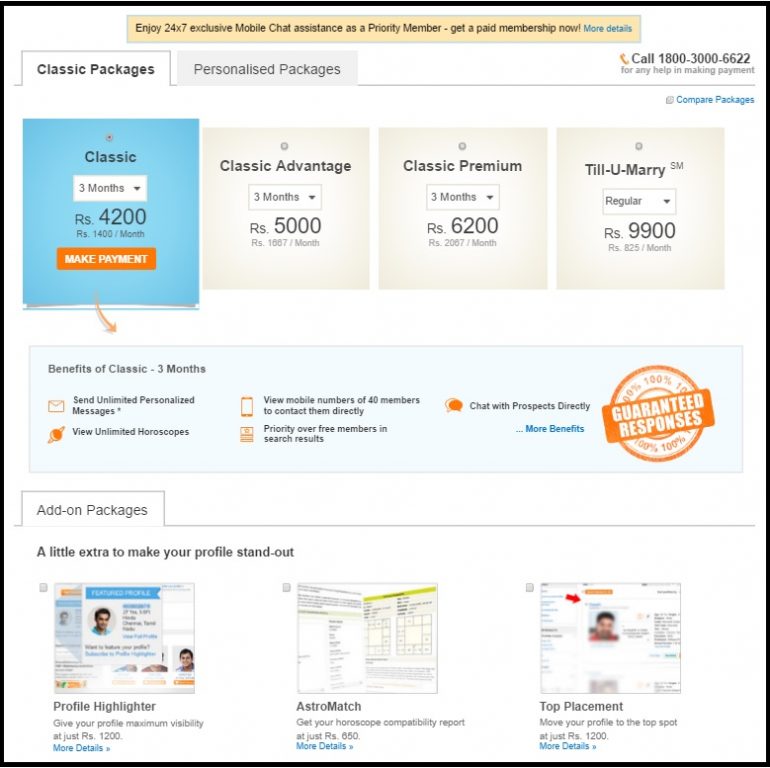 Sign up for the upgraded version only after checking out the free version.
Beware of con artists and charlatans using matrimony sites as their playground. Here is an extract from a recent news!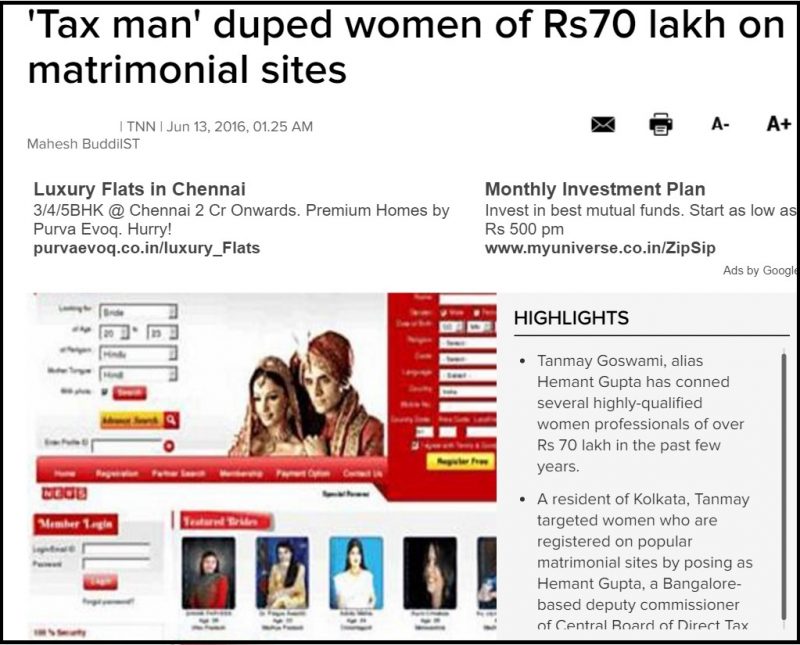 Finding love through dating sites in India
Young, tech-savvy men and women of India have easy access to smartphones, laptops, and other such easy-to-carry gadgets and they are always 'connected' and looking to try new things through trendy apps. Dating sites in India are capitalising on this trend as young Indians in urban centres are hoping to find love online.
Here are three reasons that explain the phenomenal growth of dating sites in India.
1.Exposure to the culture of finding love before marriage: Westernisation and greater exposure to the idea of not depending only on a chance meeting to fall in love have led to the growth of dating sites in India.
2. Increase in connectivity: The big jump in the smartphone usage (650 million in the next four years) along with mobile internet connections (354 million as of June 2015) has provided young Indians with an opportunity to discretely find love away from the gaze of the families and with privacy.
3. International dating companies have opened shop: The entry of international dating apps like Tinder and the likelihood of other apps like Zoosk, OkCupid, Hinge, POF, and eHarmony entering the Indian market in the near future will see more marketing campaigns that will get more Indians to try the idea of finding love online.
There are plenty of local online dating apps and websites.
You can take a pick from many Indianised dating apps if you want to try your luck in finding love online. Truly Madly, Woo, Cogxio (this dating site closed down), Vee, are some of the dating applications in India.
Here is how most of them work.
1. Sign up.
2. Complete your profile.
3. Like people and wait for them to like back before getting connected.
Here is how Tinder works.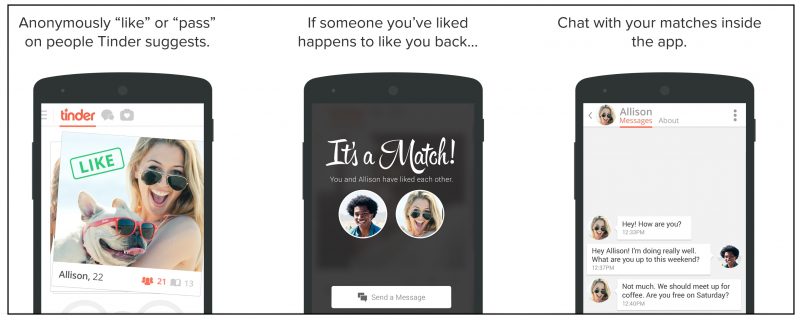 Indian counterparts of Tinder have a more elaborate process to sign up and some of them place emphasis on validating profiles or use sophisticated matchmaking algorithms.
---
---
In addition to online dating, Indians in cities are finding love using dating/matchmaking services that provide a combination of online and offline services.
Sites like UrbanTryst (which seems to have gone out of business), Floh, and Aisle provide an opportunity to create your profile and declare your expectations. They then match you with prospective dates in a casual setting or a group date. These are organised by the service provider around fun activities with the hope that Cupid will strike at least some of their members.
Here is how UrbanTryst (which closed down) explains the process.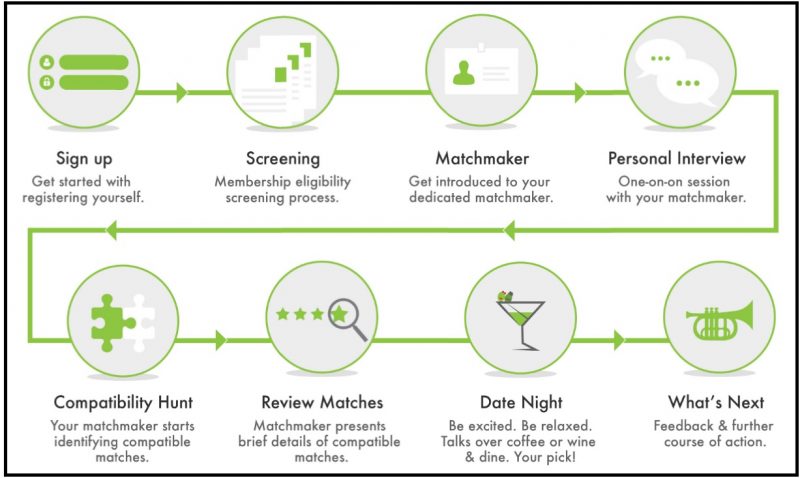 Online dating – Gateway to nightmares?
All said and done, online dating in India (and elsewhere) is fraught with major issues. Here are some you should keep an eye out for.
1. Do you really know who you might be meeting? Manipulation of personal data on online dating platforms is one of the biggest concerns for women. There is no guarantee that a man with whom a woman is interacting has shared genuine information pertaining to his identity.
2. Beware of stalkers and 'players'. Stalkers, spammers and verbal abuses abound on dating sites. Real life stalking is also a possibility and many women have had to face unsavoury incidents of stalkers turning up on their doorstep.
3. You can always sign up but you can never leave! After having explored the world of online dating for a while, if a woman wishes to exit, she may find that parting ways are pretty difficult. The removal of her account from the dating website doesn't guarantee that her profile will be disabled.
4. No means yes? Men in India still have problems taking rejection in their stride. There are countless cases of acid attacks, kidnappings, and other forms of harassment that goes beyond stalking. Bollywood also has driven home the point that if you try hard, every woman that says "no" will end up saying "yes"!
---
---
Finding love through social media
According to a research conducted by a marketing firm, Indians use Facebook, Shaadi.com.and Twitter to find love online.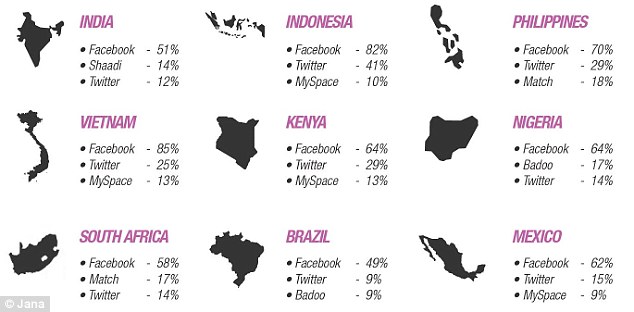 The study also reported that 35% of Indians surveyed in a study reported that they found love online.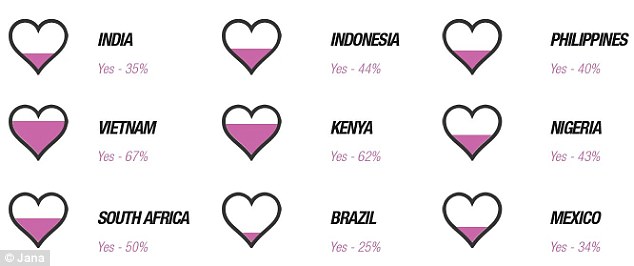 Surveys apart, there are some real life stories of how social media brought people together. Here is an example of how Twitter brought together these love birds who eventually got married!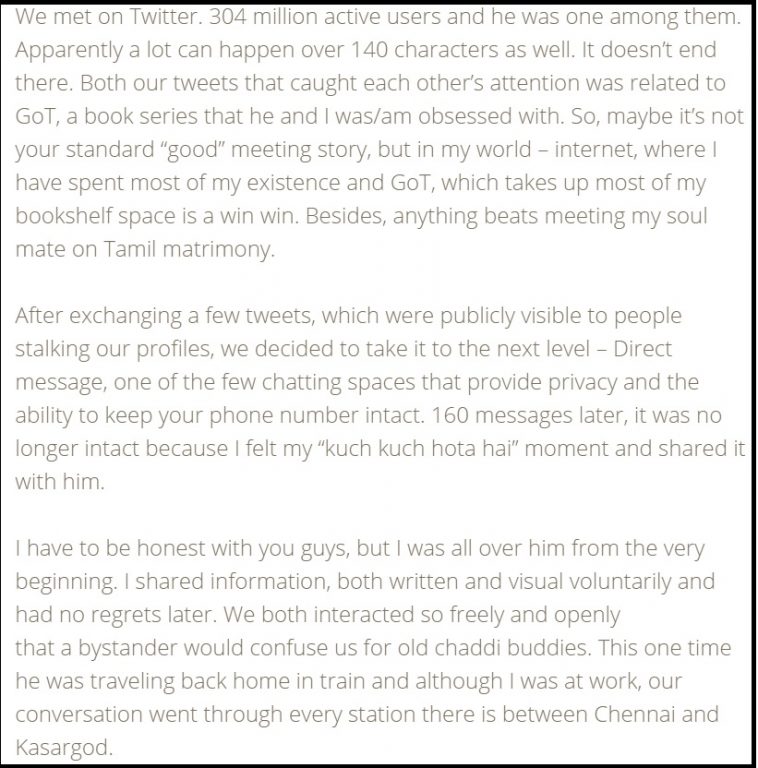 Facebook and Twitter are not the only fish when it comes to finding love online. Ever heard of Quora, a Q&A site? Finding love on Quora seems to be ridiculous, but Indians (who are one of the most active users of Quora) seem to have fallen in love with other Quora members!
Here is a story of a girl who found her husband on Quora.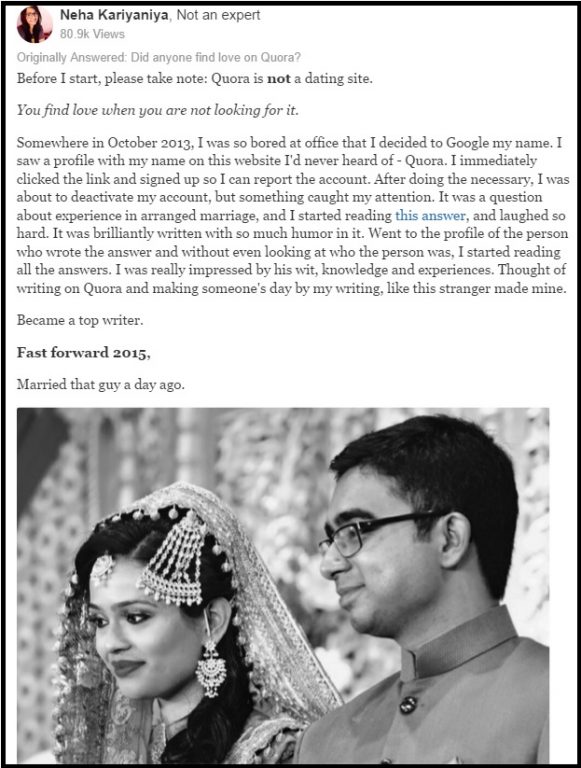 You can read more Quora love stories here.
Last, but not the least, Facebook has always resulted in connections that move beyond just being friends. Some of these love matches cut across international boundaries! Click here to read one such story of a woman from Orissa who married a Pakistani man, thanks to Facebook!
Read this next!