The proper way to describe partner expectations
We scanned partner expectations in two leading matrimony sites and realised that the format in which information is gathered from members of these sites are similar.
Instead of focusing on the qualities of a good life partner, the focus was on making sure they eliminate everyone who will not meet expectations.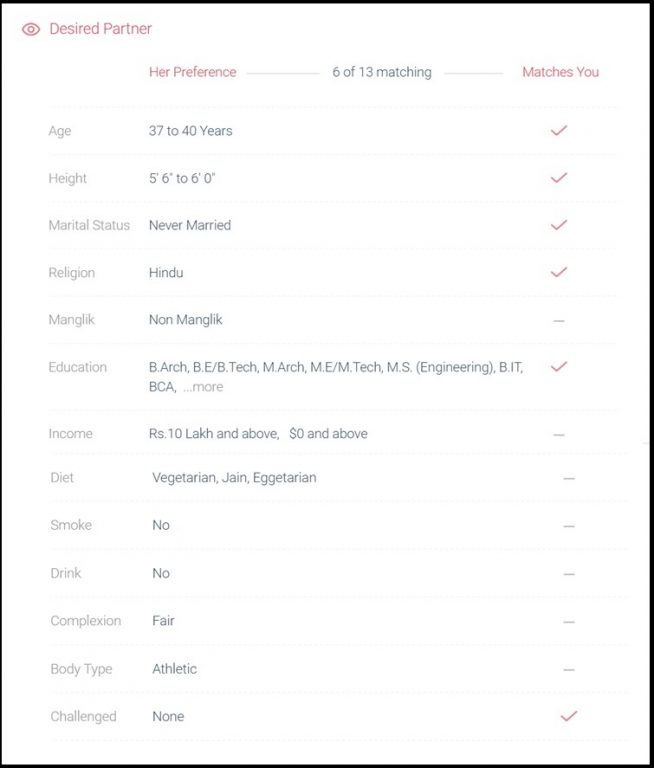 While all the parameters listed above are important, they really don't define the personality of the man or their personal goals or attitude towards married life.
So what's the outcome of such skewed partner expectations? You will end up shortlisting a bunch of men through matrimony sites and end up wasting your time meeting them.
Why is that?
Only when you meet "prospective matches" you will discover that their lifestyle and priorities in life are completely misaligned or unpleasant facts will surface leaving you frustrated!
Read about the three sins of writing partner description for marriage! Click here to read more.
7 Elegant partner expectation samples
We have created seven partner expectations samples for women to help visualise the ideal man that they look forward to marrying. We made realistic assumptions and you will certainly find sample partner preferences you can use as it is or get inspiration to create your awesome biodata for marriage.
1. Software engineer looking for a working professional
I am looking for a tall, handsome, Sikh professional based out of Mumbai. He should have a fulfilling career and should be able to support my career as a software engineer.
I travel occasionally and I am hoping to find someone who will be available to spend time with me. I am a social drinker and I am OK with marrying a social drinker. However, smoking is a strict no-no.
I don't intend to stay with the in-laws and prefer an independent life. I have a modern outlook towards life but I believe in traditional values such as respect for parents and helping others in need. I am willing to change my opinions if you can convince me and you should be open-minded about your opinions as well.

If you are a parent looking to create a profile for your daughter, you should watch this video first!

2. Musician looking for a man with an artistic background
I am looking for a man who appreciates art and preferably has a keen interest in any art form. Anyone above 5′ 5″ in height with a pleasing personality and cheerful outlook towards life will certainly meet my expectations. Caste / sub-sect and horoscope match are important for me and my family.
I belong to a family of musicians and my future husband should not stand out like a sore thumb! A keen appreciation and understanding of the pulls and pressures in the life of a professional musician are required. I end up travelling a lot during November, December, and January of every year to perform at various classical music festivals across South India and hence the person I am marrying should be willing to support me in my musical endeavours.


3. A divorced woman who is looking to remarry
I am a divorced woman with no kids looking to take the plunge the second time! I had a brief marriage that lasted 10-months and broke up because we were completely incompatible.
Religion or caste does not matter to me. However, I am looking for someone who respects women, not too egotistical, and an ability to empathise with others. Having a great sense of humour and not taking yourself too seriously will be a definite plus.
I expect the person I marry to be a non-smoker. Social drinking is acceptable. Career-oriented yet having a sense of responsibility towards family are traits that I appreciate a lot in the person I plan to marry.
4. Hearing-impaired woman looking to get married
I am a hearing-impaired woman and looking for a life partner who understands my disability but does not discriminate based on my impairment. I can speak orally and can hear well with the help of hearing aids and hence my future husband need not learn sign language.
My disability has not come in the way of my zest for life and my passion for travel. Hence, someone who likes visiting new places will be a bonus.
I expect my partner's family to accept me the way, I am. I am also open to marrying a hearing-impaired person or any other disability. Although my family has been of great support in helping me grow up into a confident person, I believe in leading an independent life. Someone who can look at disability as a matter of fact and not treat it as a curse will be a good match.
I like to keep myself physically fit and hit the gym regularly. If you believe working out, leading a healthy lifestyle, and embracing a positive outlook towards life, we can certainly talk further!
5. An independent woman who loves to travel
I am looking for a smart, tall, well-off working professional who is based in Bangalore. I am a Hindu and don't believe in caste and I am looking for to marry someone from the same religion who is a vegetarian, non-smoker and teetotaller.
I am looking for a man with a pleasing personality that can keep up with my impromptu getaways. You should be willing to also put up with my dog and be open to adopting more of the four-legged kind once we settle down.
I am close to my parents, but they lead an independent life. I am a people's person and expect my future husband to also embrace my family and friends as his own.
If you are a Nobel Prize winner, please don't respond. You probably spend all your time chasing after your passion. Believe in work-life balance? I do too! If you have nodded your head in agreement all along, do send me a message.



6. Young working woman in the US looking to settle down in the US
Looking for someone who is at least 5'8″, English / Hindi speaking, Hindu Indian working in the San Francisco Bay Area and is also a citizen / permanent resident. Caste is not an issue.
Having grown up in the US since I was 2 years old, I seldom speak my mother tongue and speak English with an American accent. However, I am still an Indian by heart and expect my partner to appreciate Indian traditions and culture. I am not very outgoing by nature but do have a handful of great friends.
I love to eat and watch a lot of cooking shows on television and hence looking for someone who shares my passion for food. I do not expect my partner to be a master chef, but it would be great if he understands the basic fundamentals of cooking. I am a vegetarian (not a vegan, btw) and would prefer a vegetarian for a partner, to make things simpler.
7. An MBBS student looking to marry a professional
I am looking for a tall, handsome professional, preferably a Doctor, based out of Chennai. I am in my final year MBBS and intend to pursue my specialisation in Oncology. I am a Christian and looking to marry a Christian of any sect. I am God-fearing, but consider religion to be a very personal choice.
My career is important and I expect to marry someone who will support my passion for being a medical professional. I grew up in a joint family and open to moving into a joint family (if required) is not an issue for me. When I am not studying, I am a member of the local choir. Someone who has a zest for life and a multi-dimensional personality will be preferred. Smoking and drinking are not OK.
Read this next!