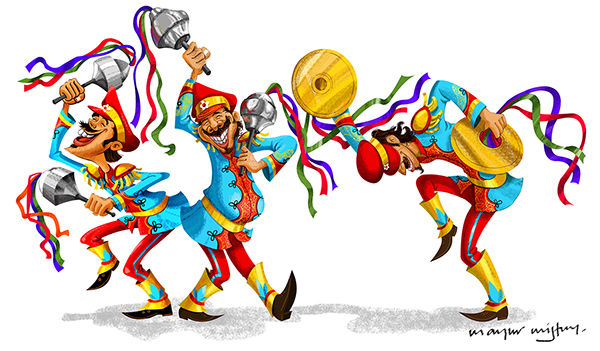 The origins of the marching Indian wedding band
The practice of hiring an Indian wedding band baja (baja roughly translates to a musical instrument) for marriages started in the 19th century according to the book Brass Baja: Stories From The World of Indian Wedding Bands. This trend took hold as Indians were influenced by British traditions in all walks of life. As colonization took roots, many practices associated with the wedding such as the reception or even the practice of printing wedding invitation cards became popular among Indians.
Interestingly, the British military introduced marching brass bands in India to impress the locals! Here is an extract from the book Music & the British Military in the Long Nineteenth Century by Trevor Herbert and Helen Barlow – "They were a crucial apparatus through which Indian subjects could be impressed by, and British rulers assured of, the strength and purpose of the imperial enterprise."

Interestingly, some of the musicians from the Imperial military bands trained Indians on using the instruments.
Here is another interesting information from the book.
The book calls out one specific individual (John Mackenzie Rogan) from the British military band who trained a set of volunteers from the Indian Railways to play the military band music. He also transcribed some of the Indian music after he befriended local royalty. These Indian tunes went into his compilation called the "Fantasia on Melodies of our Indian Empire".
Rogan's band also started playing at wedding ceremonies of aristocrats for additional income! Interestingly, they never actually marched with the wedding procession and instead sat in a circle when they played.
As we can see, the Indian wedding band music evolved from these early British influences into something that's uniquely Indian. The tradition of hiring an Indian wedding band is a lot similar to how Indians made the Ambassador car something that's uniquely India.
It is estimated that there are over seven thousand Indian wedding bands or brass bands!
The Indian wedding band is not all that appreciated!
Sadly, the practice of hiring a wedding band is no longer the in thing. The advent of professional DJs and changing preferences when it comes to music and rituals has resulted in a steep decline in the viability of this profession.
---
According to this article, "Poor wages, irregular work hours and endless travel eventually take their toll, said Shanawaz Ali, a bandmaster who plays several instruments.
"At the end of more than 35 years of playing in different bands, I have no savings. Nothing," said Mr Ali, who has urged his children to take up other trades. "There is no future in the band musician's profession."
---
There are several reasons why the Indian wedding band is disappearing fast.
1. First of all, the marching Indian wedding band is a part of the "baraat" or the groom's wedding procession in North India. This is seen as a celebratory occasion and is not seen as a religious ritual. Celebratory events are prone to changes depending on the latest trends and concepts. The same way cheerleaders went out of fashion at IPL while umpires are still employed!
2. A typical Indian wedding band has musicians drawn from villages. They come to the cities only during the wedding season to make some money and then go back to their villages. Every person in the band makes about Rs.500 to Rs.600 per wedding and see this as a way to augment their income. This is not a serious profession and hence, the quality of music is not a big focus for the band members.
3. The band musicians are mostly drawn from the lower strata of the Indian society and are not accorded any respect. In fact, their presence is completely ignored during a wedding procession! They wait endlessly for the groom's party to assemble, churn out Bollywood songs with their loud instruments (good enough for drunk members of the groom's / bride's family to dance wildly) and get back to their cramped temporary accommodations very late in the night.
4. The advent of more 'sophisticated' music preferences, the popularity of hiring top DJs have disrupted the practice of hiring wedding bands. More and more families are playing their own music from flash drives to save on wedding expenses. Companies that offer the services of wedding bands have now started diversifying into other areas such as renting out colourful umbrellas for processions as well as horses for the groom to ride on. The band itself is losing importance.
The Indian wedding band is a photographer's dream!
An interesting trend we often come across is that photography is probably the only way a declining trend gains prominence. For example, the disappearing "truck art" in its traditional form has seen a spurt in interest from filmmakers and photographers!
The endangered Indian wedding band is no different. All the colours and pomp set against stark working conditions make any surviving Indian wedding band a photographer's dream.
We lined up a bunch of interesting photographs of Indian brass bands. Enjoy!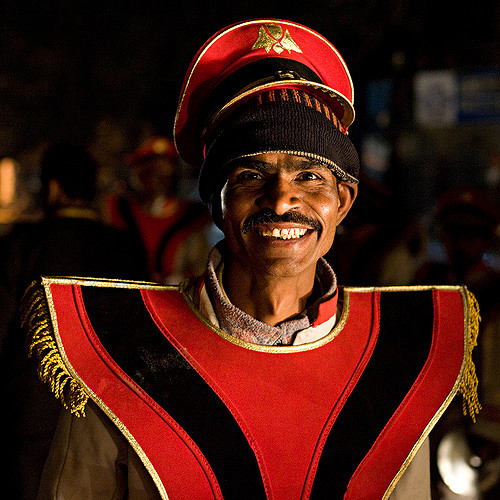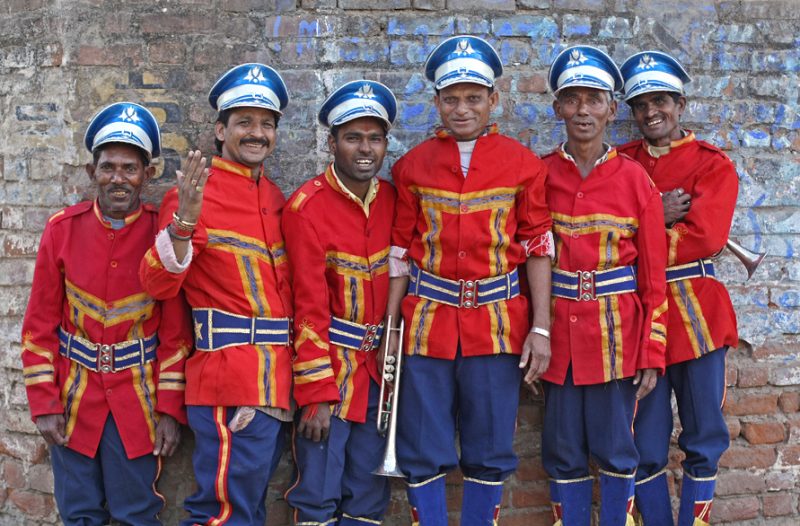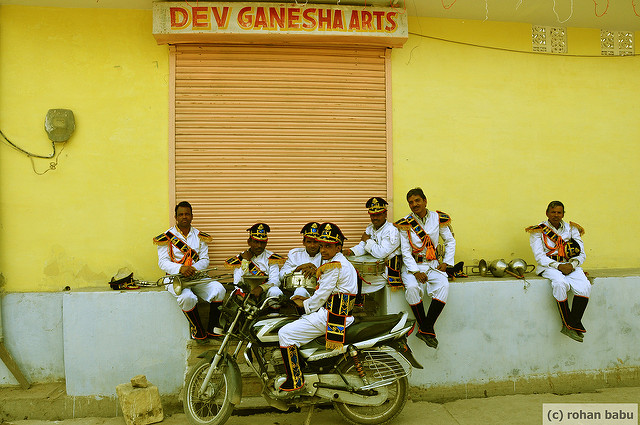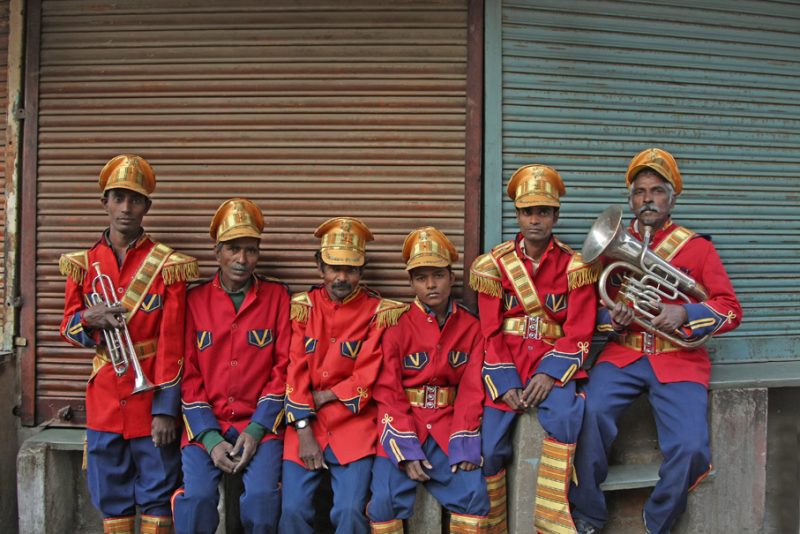 Perhaps the most poignant photo series on the life of a typical Indian wedding band is captured by Mansi Thapliyal of Reuters. Click on the image below to view her photos.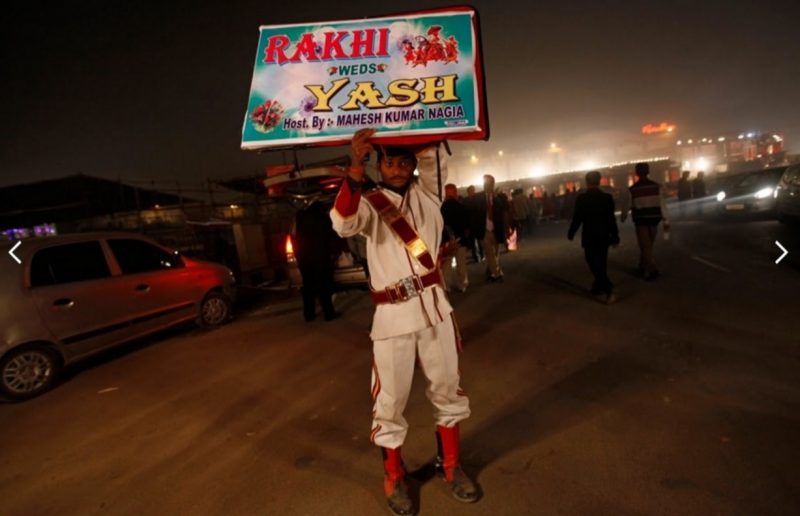 New York Times has also documented an interesting video on Indian brass bands at weddings.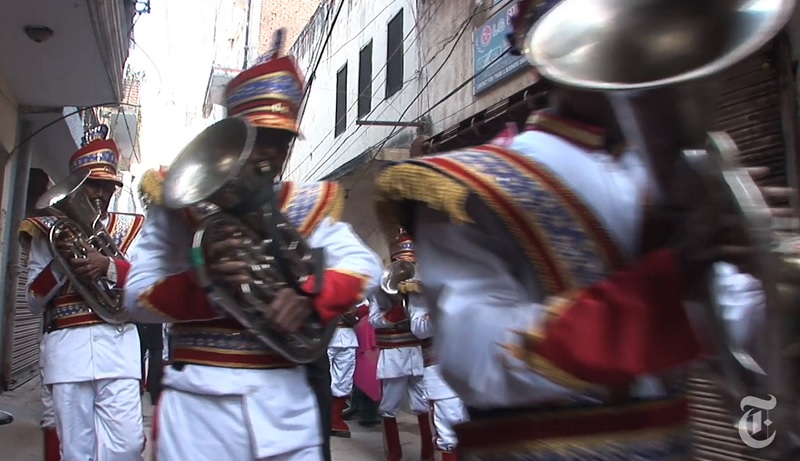 Tell us what you think about hiring a wedding band for your own wedding. Add your thoughts in the comments section below.
More posts about everything we ignore!
---
Do you plan to hire a wedding band for your marriage? Let's help you find your soulmate first. Create your FREE Jodi Logik profile.